Agape was founded in 2005. In accordance with our name, ("Agape" is translated as "love" in Greek), the Agape staff works in a cooperative spirit that is wholly committed to helping our clients grow and strengthen their families.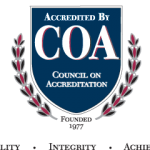 In 2014, the Council on Accreditation (COA) approved Agape for Hague Accreditation pursuant to the Intercountry Adoption Act of 2000 (IAA). This achievement of Hague Accreditation demonstrates Agape's commitment to providing ethical and professional services to children and families both in the United States and abroad.
In 2015, Agape launched the Agape Family Services (AFS) program arm in response to the need for child and family welfare services which were not specific to adoption. Agape Family Services currently offers case aide and parent aide services to clients in Maricopa and Coconino counties. Agape's leadership team is planning to expand AFS services to families in other parts of the state.