We'd like to say a big THANK YOU to Riley S from Mesa, AZ for her recent participation as a foster care evangelist. Riley is a student at Mesa Advanced Academy and took it upon herself to coordinate an anonymous school drive to benefit Maricopa County foster children.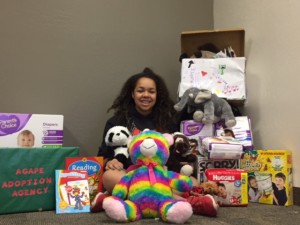 When Leslie Reprogle, Agape's Founder and CEO, sat down with Riley for an interview, she asked Riley how she came up with the idea to do a drive at her school. Riley explained that as a member of National Junior  Honor Society, she needed to do a quarterly project and thought that helping foster children would be the best idea. The drive brought in books, toys, games, diapers and wipes that have been distributed to foster children across the valley. Riley said "I hope that the drive makes their day or week or life better…every little bit counts." Riley wants Arizona's foster children to know "We know you're struggling and we're out there loving you."
Thank you again Riley for your heart-felt act of service!
To discover how you can be a foster care evangelist, visit https://www.agapeaz.org/programs/fostercare/fcevangelism/